AI & Marketing Technology
Cloud for Marketing
Enabling enterprises and brand owners to develop 4 marketing strategies
Omni-Channel Customer Journey Optimization
Scenario-Oriented Recommendation
AI Powered Persona for Contextual Marketing
Challenges
Fragmentary marketing data is spread across multiple channels
Multi-screens wrest the users' attention
The rise of digital advertising cost
Solutions
Cloud for Marketing (C4M) provides one-stop marketing technology solution for enterprises and brand owners.
iKala data warehouse (Big Data Lake) can integrate data from omni channels
Establish a media evaluation mechanism to measure the quantitative result of every advertisement you place
Optimize marketing strategies instantly with real-time dashboards
AI Marketing Technology Service Process
Drawing from our rich experience in data-driven marketing and digital transformation solutions, iKala has invented a Cloud for Marketing (C4M) strategic structure. Utilizing our Big Data Lake solution to integrate customer data in real-time, and with Google Cloud's powerful data analytics and AI technology, iKala can help customers quickly implement smart marketing strategies to efficiently complete their digital transformation, while increasing the revenue and value of the company brand.
Fragmented Marketing
Fragmentary marketing data is spread across multiple channels which causes difficulties of capturing a comprehensive picture of customers.
1
Omni-channel Data Integration
iKala's Big Data Lake solution can collect, intergrate and manage omni-channel data for digital marketing purposes.
2
Precision Marketing
Uses AI to enhance the model, allowing branded companies to see a complete customer profile in real time, thus achieving the objective of precision marketing.
3
Data Visiualization
Provides real-time dashboards for marketers to get instant messages and identify what insights to extract and apply.
4
Pixel Tracking Architecture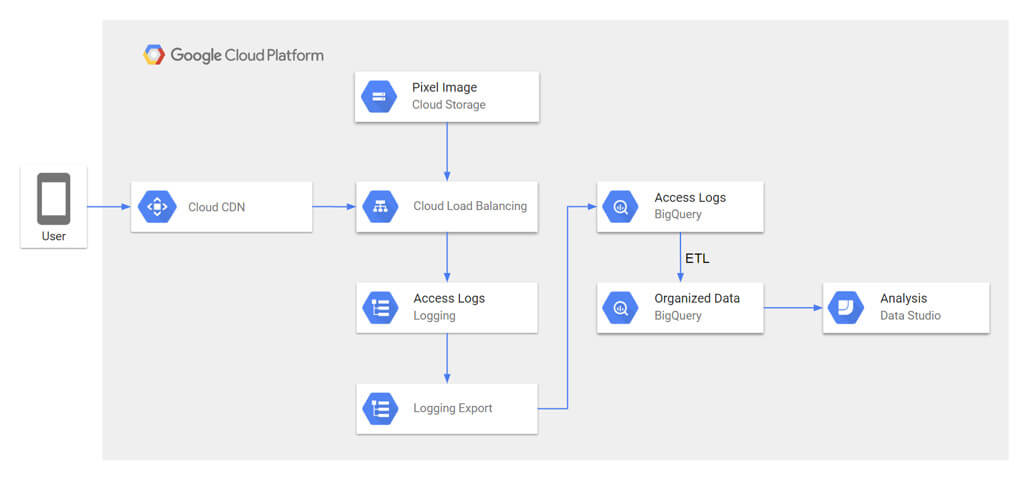 Pixel tracing is widely used for measurement of marketing effectiveness. It is easy to setup scalable, reliable and serverless backend for pixel tracking in Google Cloud Platform. Serving small pixel images with Cloud Load Balancing and Cloud CDN allows heavy concurrent traffic, and access logs are automatically generated and saved in the centralized logging service – Cloud Logging. Access logs are constantly inserted into BigQuery with simple Cloud Logging export settings. As a full managed SQL-compatible data warehouse with petabyte-scale data processing capability, it is common to organize raw access logs with SQL and store back to BigQuery. Then we can use interactive visualization tools like Data Studio to analyze organized data stored in BigQuery.
Contact Us
If you need further information, please send a mail to cloud@ikala.tv or call +886-2-8768-1110 directly, thank you.