Media & Advertising
Upgrading eye-catching media content
Massive free information with limited time distracts audience attention which causes low willingness of subscriptions. Through iKala Cloud big data analysis, you're able to identify every single audience profile and accurate content recommendation. Publishers can grasp the audience's eye effectively.
Solution Features
Collect all audience path behavioral from various platforms
Gain rich insights of audience profiles
Increase high click rates with precise recommendation
Optimize campaigns with real-time reports
Live Streaming Architecture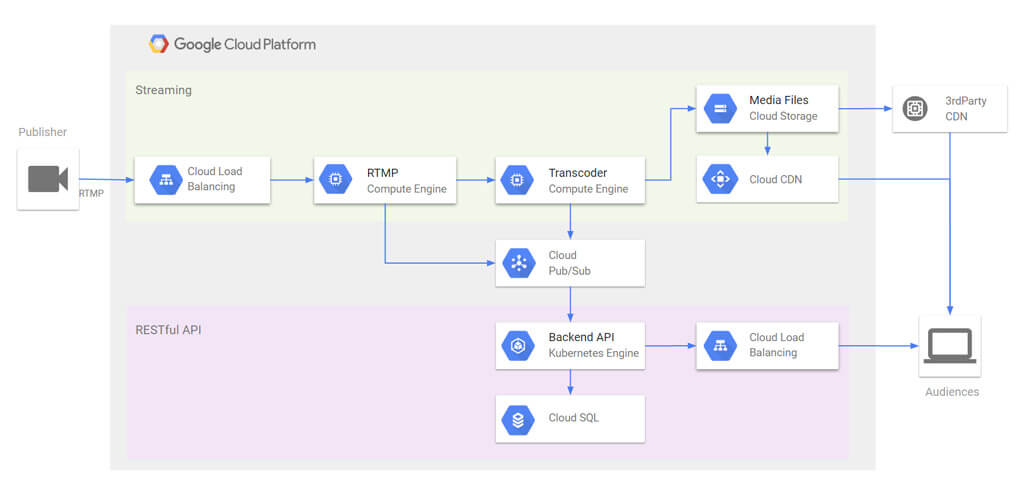 A live streaming service typically consists of three stages – pushing streaming, transcoding and allowing a large number of audiences to pull streaming. Taking HLS as an example, it is an ideal choice to run stateful workloads like RTMP servers and transcoder servers on Compute Engine to convert RTMP streaming as m3u8 and TS files, then store files on secure and durable Cloud Storage. Mass scale of audiences around the world are able to pull streaming files hosted on Cloud Storage via Cloud CDN or third-party CDN without worrying about system capacity. Serving backend API is also crucial to a live streaming service. Running backend API workloads on high availability and easy-to-manage Kubernetes Engine clusters with full managed CloudSQL as database allows developers to focus on business logic. Communication between RTMP servers and backend API servers can be leveraged through scalable and reliable Cloud Pub/Sub to ensure delivery of important status changes.
Contact Us
If you need further information, please send a mail to cloud@ikala.tv or call +886-2-8768-1110 directly, thank you.